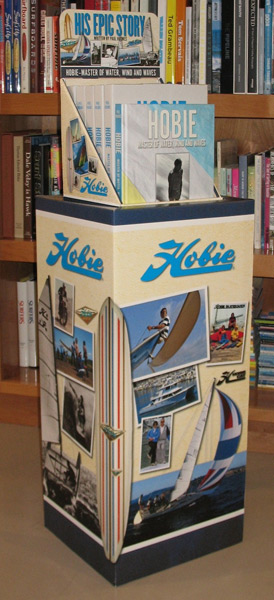 Now accepting retailer wholesale orders online. Register now and establish an account as a retail store.
Please have your Tax ID and California Resale Number (if applicable) on hand when registering.
To register, visit the registration page and select the check box titled "Would you like to be a Croul Publications retailer." Fill out the required fields and click register.
Croul Publications will review the submitted information and notify you via email once you have been approved. If you receive an email notification stating that you have been approved you can login with the same account username/password to receive wholesale pricing.
There is a minimum order of any five books and the wholesale pricing will be reflected on the cart/checkout pages.
*Free Shipping on Orders over $90 does not apply to Retailer accounts
The Hobie Book POP Display
A point-of-purchase display for the Hobie book is available for purchase and is free with an initial order of two cases (14 books).
The printed corrugated cardboard POP is very stable, holds 6 books, stands 48″ tall and occupies 13 x 14 inches of floor space. Alternatively the top part of the display can stand alone as a countertop display and the lower part can be used as flat art on a wall or in a window.
Price $35 including shipping, or free with an order of 14 books.